https://graphics8.nytimes.com/video/players/offsite/index.html?videoId=100000006086663
…….tell me again about moles…………..w
Team Vesco after its record run
Just six weeks after Danny Thompson set a record for wheel-driven cars at Bonneville with a mind-blowing 448.757 mph, multigenerational racing family Team Vesco, with driver Dave Spangler, went out on the salt in their Turbinator II and ran 482.646.
Try to wrap your head around a car going almost as fast as a DC-9, a car that more or less puts power to the wheels just like your Dodge Dart, only about four or five times faster.
These are not jet cars that blast down the salt flats on jet engine thrust alone.
These are cars that make the wheels turn mechanically to go forward, same as your Camry, technically.
And while Thompson's record was for the fastest piston-powered wheel-driven car, Team Vesco drove its wheels not with piston power, but with a turbine.
It's a long story. Do you have a minute?
Rick Vesco, a racer himself and member of the Bonneville 200 MPH Club, as well as patriarch and sage of Team Vesco, told us some details, starting with the Vesco family racing heritage.
"My dad, John Vesco, started racing in 1933 on the dry lakes in Southern California," Rick told Autoweek.
"He attended the first Speed Week on the Bonneville Salt Flats in 1949.
He raced belly tanks and then, in 1957, built his first streamliner, the 'Little Giant #444.'
So you could say I was born into it."
Rick's late brother, Don, was born into it, too.
Don set the previous record for wheel-driven cars when he ran 458 mph in an earlier version of The Turbinator in 2001.
Both Rick and Don designed that car.
Brother Don Vesco also held the motorcycle speed record for 19 years after going 318 mph in a two-wheeled streamliner the brothers built.
Don, who passed away in late 2002, held 18 motorcycle and six automotive records over his lifetime.
Brother Rick continued the family quest for speed, developing Turbinator and Turbinator II over the past 30 years.
"I built the car in 1988 and used piston engines getting us up to 397 mph but had trouble supporting the costly repairs," said Rick.
"Then my brother Don went to the San Diego unlimited hydroplane races as a guest of Budweiser, called me up and said, 'We need a turbine engine!"
Don told Rick that turbines were "simple and efficient."
Maybe they were.
But how do you convert the power of a turbine to spin the wheels?
"A 2:1 reduction gearbox transfers 1,300 lb-ft of torque to twin driveshafts – one to the front, one to the rear," Rick said.
"The engine output shaft turns 16,000 rpm.
The 2:1 reduces it to 8,000 to each driveshaft."
And, in a vast oversimplification, that makes the car go forward.
(Where'd they get the turbine, by the way?
"We bought it from Art Arfons," Rick said.
That's the late land speed racer Art Arfons, who in the early '60s built a Bonneville car around a surplus General Electric J79 jet engine out of a Lockheed F-104 Starfighter and set land speed records at 536 and 576 mph at Bonneville.
Arfons' records were classed as jet car records, not wheel-driven records.
Officially, historians refer to that time at Bonneville as, "When men were men.")
Team Vesco's Turbinator II set its 482.646-mph record in T-3 class during the World of Speed time trials hosted by the Utah Salt Flats Racing Association last week.
You'd think that would be enough to keep Team Vesco happy for a while.
But racers are never happy.
"Team Vesco is not done," read an official team release.
"The team will return to the salt in October, focused on earning the distinction of becoming the first wheel-driven car to exceed 500 mph.
Spangler's top, one-way speed of 492 mph puts the team within 8 mph of its 500-mph goal.
"We have the power with our 5,000-hp Lycoming internal combustion shaft turbine engine, and will attempt to finish the job at SCTA's World Finals," said driver Spangler of the Oct. 2-5 event.
"We have a good chance to reach the magic 500 number and we invite visitors to witness hot rod history in real time!"
Rick Vesco knows what they have to do now.
"Add more rpm and fuel to the internal combustion half of the engine," he said.
"At the next event, we will be producing approximately 400 more horsepower, with traction control limiting wheelslip to 6 percent of the actual ground speed of the vehicle via GPS computer-operated fuel control."
He does not foresee any difficulties.
"We feel confident that we are in control of any major problems at this point."
So watch this space — you may see another Team Vesco record next month.
Good luck, racers!
Read more: https://autoweek.com/article/racing/team-vesco-eclipses-wheel-driven-land-speed-record-482-mph-run-bonneville#ixzz5S8pTeem3
Read more: https://autoweek.com/article/racing/team-vesco-eclipses-wheel-driven-land-speed-record-482-mph-run-bonneville#ixzz5S8SgIaK1
……….TALK ABOUT POWER……………
Russia's Floating Nuclear Power Plant Sets Sail
The Akademik Lomonosov will soon be powering 100,000 residents on Russia's east coast.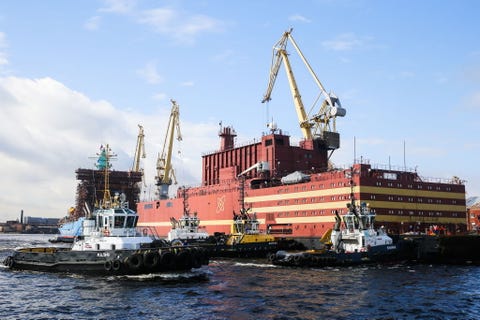 GETTY IMAGES
PETER KOVALEV / CONTRIBUTOR
While the threat of a meltdown is scary, fossil fuel kills thousands every year and nuclear power is one of the best alternatives.
But nuclear plants are also incredibly difficult and expensive to build.
Even small nuclear plants can cost billions of dollars, making the investment much tougher.
There's a reason the U.S. has only built one nuclear plant in over 20 years.
One possible solution to this problem being pioneered by Russia is floating nuclear plants, built in a single location and sailed to where they're needed.
The world's first such plant, called the Akademik Lomonosov, is setting sail for Murmansk to receive its fuel, before heading to the remote city of Pevek in 2019.
The energy company that built the nuclear plant, the state-owned Rosatom Corporation, is primarily choosing to bring nuclear power to Pevek in this roundabout way because there's no real alternative.
Pevek is located on Russia's east coast, far from pretty much everything else, so there's no real way to build a giant nuclear plant there.
This could be the first of several floating nuclear plants built by the Rosatom Corporation, and such construction would have the benefit of reusing infrastructure from the Lomonosov.
This would follow a process similar to the one China is currently using to build cheap nuclear plants, reusing construction crews and designs.
However, if Rosatom decides to get into this business they'd also have the advantage of reusing construction locations.
This could provide a reliable and cost-effective source of electricity for a nation still highly dependent on fossil fuels.
Source: Ars Technica
####
…………..when your number comes up…………………………………….w
After 27 years in prison, a man who loves golf walked free today.
Not only that, he was given back his innocence.
Of course, the state can regift innocence about as capably as it can 27 years.
Nevertheless, the Erie County District Court in Buffalo, N.Y., has vacated the murder conviction of Valentino Dixon, 48, who was serving a 39-years-to-life sentence—the bulk of it in the infamous Attica Correctional Facility—for the 1991 killing of Torriano Jackson.
On that hot August night long ago, both were at a loud street party with underage drinking when a fistfight over a girl turned to gunfire.
But before we dive into what really happened, a quick refresher on why golfers might care extra about Valentino Dixon.
Six years ago, Golf Digest profiled this inmate who grinds colored pencils to their nubs drawing meticulously detailed golf-scapes.
Although Dixon has never hit a ball or even stepped foot on a course, the game hooked him when a golfing warden brought in a photograph of Augusta National's 12th hole for the inmate to render as a favor.
In the din and darkness of his stone cell, the placid composition of grass, sky, water and trees spoke to Dixon.
And the endless permutations of bunkers and contours gave him a subject he could play with.
"The guys can't understand," Dixon has said.
"They always say I don't need to be drawing this golf stuff.
I know it makes no sense, but for some reason my spirit is attuned to this game."
It took about a hundred drawings before Golf Digest noticed, but when we did, we also noticed his conviction seemed flimsy.
So we investigated the case and raised the question of his innocence.
The case is complicated, but on the surface it involves shoddy police work, zero physical evidence linking Dixon, conflicting testimony of unreliable witnesses, the videotaped confession to the crime by another man, a public defender who didn't call a witness at trial, and perjury charges against those who said Dixon didn't do it.
All together, a fairly clear instance of local officials hastily railroading a young black man with a prior criminal record into jail.
Dixon's past wasn't spotless, he had sold some cocaine, but that didn't make him a murderer.
Golf Digest's 2012 article led to further national spotlights on the case by NBC/Golf Channel, CRTV.com, Fox Sports, the Georgetown University Prison Reform Project and others.
Alongside this, Dixon's daughter, Valentina, led a grassroots campaign to raise money for her father's legal fees by selling his artwork online.
Still, the gears of the legal system refused to turn.
As of Christmas 2017, appeals exhausted, Dixon's petitions for pardon or clemency drew no response from New York governor Andrew Cuomo's office.
But now suddenly, a vacated conviction—which means innocence—a far more lofty legal victory.
Why now?
It rises from a confluence of factors, according to Donald Thompson, who along with Alan Rosenthal, filed Dixon's latest motion (which included the Golf Digest article) pro bono.
"Once a case crosses a certain threshold of media attention, it matters, even though it shouldn't," Thompson says.
"It's embarrassing for the legal system that for a long time the best presentation of the investigation was from a golf magazine."
Thompson says Golf Digest's work eventually was eclipsed by the recent report filed by the Erie County district attorney's wrongful convictions unit, which is a new type of department popping up in various districts these days.
Their report was helped by the Georgetown University students, a group of undergraduates who have also created documentaries, websites and social-media campaigns around three other individuals thought to be wrongfully imprisoned, as part of a class.
"They did a great job of speaking to witnesses who could still be located, as well as getting Chris Belling [who prosecuted Dixon] to say things at variance with positions he's argued in the past."
Also not to be discounted is the value of fresh blood.
Frank Sedita III, the longtime Erie County district attorney who's said that society ought to be more concerned with "wrongful acquittals," is out.
The new man, John Flynn, has been in the job a year, and it's basically due to his blessing that Dixon was released.
Of course, one small matter to be addressed before a man's guilt is absolved is to place it on someone else.
Just before Dixon walked out of the courthouse, LaMarr Scott walked in and officially plead guilty to Jackson's murder.
Scott admitted responsibility the night of the shooting and has for decades since (including to Golf Digest), with the exception of a brief window of time when Belling pressured him to say otherwise.
Scott is already serving a life sentence for a 1993 shooting in an armed robbery that left one victim a quadriplegic.
Tacking on a concurrent sentence for Jackson's murder doesn't change his prospects, other than maybe making any future parole a slimmer possibility.
Where's Dixon heading after the courthouse?
"I'm going to Red Lobster to celebrate with my family and my support team, then we're going to go a park," he said.
The next day he's going to visit his grandmother, and the day after that he's going to buy a cellphone and register for a passport at the post office so he can visit his wife of 12 years, Louise, who lives in Australia.
She has a golden heart, and the two met because she has spent her life seeking to help those she can.
"So many times I've come close [to giving up], but God kept giving me the strength to keep on and now I know why," Dixon told me by phone, hours after learning of his impending freedom.
The careers of the people who put Dixon away will not be impacted.
All have either retired or moved to new positions.
"The positive is that this case could serve as a shining example to wrongful convictions units elsewhere," Thompson says.
Lesser men would've broken. With his mind and body in tact, Dixon hopefully has some good years ahead.
Maybe he'll even take up golf.
####
…………this is near…………………………………………………………..this is far……………w
Uri Avnery, Israeli activist for a Palestinian state, dead at 94
20 August 2018
The National – 20 August 2018
Uri Avnery, a self-confessed former "Jewish terrorist" who went on to become Israel's best-known peace activist, died in Tel Aviv on Monday, following a stroke. He was 94.
As one of Israel's founding generation, Avnery was able to gain the ear of prime ministers, even while he spent decades editing an anti-establishment magazine that was a thorn in their side.
He came to wider attention in 1982 as the first Israeli to meet Yasser Arafat, head of the Palestine Liberation Organisation. At the time, Arafat and the PLO were reviled in Israel and much of the west as terrorists.
Famously, Avnery smuggled himself past the Israeli army's siege lines around Beirut to reach Arafat. The pair were reported to have maintained close ties until the Palestinian leader's much-speculated-upon death in 2004.
Avnery founded Israel's only significant – if small – peace movement, Gush Shalom, in 1993.
He and his followers tried to build political pressure in Israel and abroad, seeking to convert the lipservice paid to a two-state solution in the Oslo peace process into a concrete Palestinian state.
A harsh critic of Benjamin Netanyahu's far-right government until the end, Avnery filed his final weekly column two weeks ago, lambasting Israel's new Nation-State Basic Law as "semi-fascist".
For Israel's currently besieged peace bloc, Avnery's passing is a significant blow. Despite tributes from Israeli opposition politicians on Monday, his voice had long ago become marginalised at home. He was the last major public figure still visibly fighting to bring about a two-state solution.
His unyielding positions in support of an Oslo-style peace had begun to appear to many on the Israeli right and left as obsolete, especially after Donald Trump's ascendancy to the White House. Since then, Israel has barely veiled its intention to annex parts of the West Bank, destroying any hope of a Palestinian state.
Avnery publicly rejected a resolution of the Israeli-Palestinian conflict based on a shared, single state for Israelis and Palestinians.
He also opposed a general boycott of Israel, as advocated by the growing international BDS movement. Gush Shalom, however, did support boycotts restricted to the settlements.
Avnery arrived in what was then British-ruled Palestine in 1933, aged 10, emigrating with his family from Germany as the Nazis rose to power.
At 15, he was an young recruit to the Irgun, an underground Jewish militia the British classified as a terrorist organisation. But increasingly disenchanted with its attacks on Palestinian civilians, he quit a few years later.
Avnery fought with the Haganah – later to become the Israel Defence Forces – during the 1948 war that founded a Jewish state on the ruins of the Palestinians' homeland. In later books and articles, he referred to his unit's role in committing war crimes against Palestinians in the Negev region, in modern Israel's south.
During the fighting, he was seriously wounded. His dispatches from the battlefront, later compiled into a book, briefly made him a national hero.
But his popularity soon waned. In his memoir, he described his convalescence as a period of dramatic change in his thinking: "The war totally convinced me there is a Palestinian people, and that peace must be forged first and foremost with them."
It was then, he added, that he became a committed advocate for a Palestinian state.
Through the 1950s, 1960s and 1970s, Avnery was best known for publishing his weekly magazine Haolam Hazeh (This World). Its mix of ground-breaking investigations, political muckraking and dissident opinion made him many enemies in the ruling Labour party.
The head of Israel's domestic intelligence service of the time described Avnery as "Government Enemy No 1". The magazine's offices were bombed several times, and Avnery was seriously assaulted. The publication only closed when Avnery started Gush Shalom.
The movement on Monday described him as "a far-seeing visionary who pointed to a way which others failed to see".
Though a dissident figure, Avnery had been popular enough on the left to launch a separate political career, winning seats in Israel's parliament in the 1965, 1969 and 1977 elections.
When he made a speech in the parliament to relinquish his seat in 1981, he caused an uproar by being the first legislator to wave the Palestinian and Israeli flags alongside each other.
But it was in 1982 that he established a reputation outside Israel. He was smuggled into Beirut to meet Arafat, as Israeli forces encircled the city in an effort to remove the PLO from Lebanon.
It later emerged that Israeli soldiers had been tracking Avnery in a bid to locate Arafat's hideout and assassinate him. Avnery's Palestinian escorts managed to elude them.
In his columns, Avnery often credited himself with using the trust he built with Arafat over the next few years to persuade the Palestinian leader to change the PLO's political direction.
In 1988 Arafat renounced a long-standing Palestinian commitment to a single secular democratic state in historic Palestine, and formally accepted the idea of partitioning the territory into two states.
It was a concession that paved the way to the Oslo accords, signed between Arafat and Israeli prime minister Yitzhak Rabin on the White House lawn in 1993.
That same year Avnery founded Gush Shalom, or "peace bloc", to build on that momentum as Arafat and the PLO were allowed to return to parts of the occupied territories from which Israel had withdrawn.
As well as believing in the right of Palestinians to freedom, Avnery argued strongly that Israel's Jewish demographic majority would be under threat unless it separated from the large Palestinian population in the occupied territories.
There were suspicions that some of Arafat's more misguided assumptions about Israeli society – especially regarding the strength of the peace bloc and the public's receptivity to the Oslo process – were informed by Avnery.
When the peace process effectively collapsed with the failure of the Camp David summit in 2000 and the eruption of a Palestinian uprising, Avnery again found his message of reconciliation out of favour in Israel.
But in his late seventies, he found a new international audience, as his translated columns were disseminated online.
Avnery hoped through his writings to resurrect what was left of his political legacy. But more often his columns were sought out for the light he could shed on current controversies, drawing on insights gained from his knowledge of historical episodes now largely overlooked.
At the height of the second intifada, Avnery and Gush Shalom were often alongside Palestinians protesting against abuses by the Israeli military or the settlers. They also demonstrated to stop Israel's building of a "separation barrier" that subsequently ate up large chunks of Palestinian land in the West Bank.
In 2003, Avnery joined Arafat in his besieged presidential compound in Ramallah, serving as a "human shield" – to foil an expected Israeli assassination attempt. After Arafat died in mysterious circumstances a year later, Avnery was among those arguing that Israel was behind his poisoning.
His last column explored one of his enduring concerns: Israel's identity as a Jewish state. It was provoked by the recent passage of the Nation-State Basic Law, which confers on Jews around the world privileges in Israel that are denied to the country's large minority of Palestinian citizens.
For many years Avnery had been among those warning that Israel could not be a democracy if it did not treat all citizens as equal, but instead allocated key rights based on differing Jewish and Arab nationalities.
In 2013 he and other Israelis appealed to the supreme court to recognise for the first time an Israeli nationality shared by all citizens. The judges rejected their arguments.
………………………………….Got his number ………..w
Conspiracy Theories Made Alex Jones Very Rich. They May Bring Him Down
AUSTIN — More than ever before in his two-decade career built on baseless conspiracy theories, angry nativist rants and end-of-days fearmongering, Alex Jones is being called to account.
In a Texas courthouse, his lawyers are battling defamation claimsresulting from one of his most infamous acts: spreading false reports that the Sandy Hook massacre of 20 first graders and six adults was an elaborate hoax.
In Silicon Valley, Facebook, YouTube and, as of Thursday, Twitter, under pressure to better curb hate speech and incendiary misinformation, have largely cut him off.
His latest stunt — turning up on Capitol Hill this week to call attention to his claim that he is being unfairly silenced on ideological grounds — led to an embarrassing rebuff by a conservative Republican senator.
The big question for him now is whether his bluster — and the implicit support he has received from President Trump, who has channeled bogus or misleading claims promoted by Mr. Jones and echoed his complaints of anticonservatism by technology companies — will be sufficient to see him past his current peril.
He is facing a legal, public opinion and social media reckoning that poses the most serious threat yet not just to his ability to inject the outlandish into the mainstream, but also to the lucrative business he has built.
Mr. Jones likes to portray his digital channel, Infowars, as a media outlet, and he is quick to wrap himself in the First Amendment.
But in business terms, it is more accurate to describe Infowars as an online store that uses Mr. Jones's commentary to move merchandise.
Its revenue comes primarily from the sale of a grab-bag of health-enhancement and survivalist products that Mr. Jones hawks constantly.
A close look at his career shows that he has been as much a canny if unconventional entrepreneur as an ideological agitator.
He has adapted to — and profited from — changes in both the political climate and the media business even as he has tested, and regularly crossed, the boundaries of acceptable public discourse.
For more than two decades, Mr. Jones, who is 44, has built a substantial following appealing to an angry, largely white, majority male audience that can choose simply to be entertained or to internalize his rendering of their worst fears: that the government and other big institutions are out to get them, that some form of apocalypse is frighteningly close and that they must become more virile, and better-armed, to survive.
"I'm not a business guy, I'm a revolutionary," he said in an interview in August.
If it is a revolution, it is one that he has skillfully monetized.
His fundamental insight was that his audience is also a nearly captive market for the variety of goods he peddles via Infowars' website and his syndicated radio show — products intended to assuage the same fears he stokes.
Infowars and its affiliated companies are private and do not have to report financial results publicly.
But by 2014, according to testimony Mr. Jones gave in a court case, his operations were bringing in more than $20 million a year in revenue.
Records viewed by The New York Times show that most of his revenue that year came from the sale of products like supplements such as the Super Male Vitality, which purports to boost testosterone, or Brain Force Plus, which promises to "supercharge" cognitive functions.
Court records in a divorce case show that Mr. Jones's businesses netted more than $5 million in 2014.
Court proceedings show that he and his then-wife, Kelly Jones, embarked on plans to build a swimming pool complex around that time featuring a waterfall and dining cabana with a stone fireplace. Mr. Jones bought four Rolex watches in one day in 2014, and spent $40,000 on a saltwater aquarium; the couple's assets at the time included a $70,000 grand piano, $50,000 in firearms and $752,000 in silver, gold and precious metals, in a safe deposit box, court documents say.
People who have worked with him or studied his business said his revenues had probably continued to grow in recent years.
But his problems are mounting.
At least five defamation suits against Mr. Jones, including three filed by Sandy Hook families, are moving forward.
Last month, a Texas judge ordered Mr. Jones and officers in his web of limited-liability companies to provide depositions to lawyers for the parent of a Sandy Hook victim in coming weeks, testimony that could shed new light on Mr. Jones' operation.
He is also facing complaints of workplace discrimination from two ex-employees, a fraud and product liability case and a nasty court battle with Ms. Jones, now his ex-wife.
She says that the couple have spent a combined $4 million on their four-year battle over custody of their three children and disputes over the business.
At the same time, the crackdown on Mr. Jones in August by the social media giants — he has been largely banned by Facebook, YouTube, Apple, Spotify and even Pinterest — poses a severe test by limiting his access to his audience.
The early evidence is that the bans have substantially reduced his reach, and that was before Twitter imposed a permanent ban on Thursday on his account and the account for Infowars, depriving him of his last major social media channel.
As a result, he is being forced to rely even more on his Infowars site, his mobile app and his radio show, which is heard on more than 100 stations nationwide.
True to form, Mr. Jones is using the challenge to move more product.
For several days in August, after the ban by the social media companies, his online Infowars Store offered deep discounts under an all-caps banner that read, "FIGHT THE BULLIES, SAVE THE INTERNET, SAVE INFOWARS."
The best-selling Survival Shield X-2 nascent iodine drops were discounted 40 percent, to $23.95, while Alpha Power, a product marketed as boosting testosterone and vitality to "push back in the fight against the globalist agenda," was half off, at $34.95.
A man working for Infowars speaks to gun rights activists in Dallas.
"The enemy wants to cut off our funding to destroy us," Mr. Jones said on his broadcast, concluding a segment about being banned by the social media companies with a sales pitch for another product.
"If you don't fund us, we'll be shut down."
Mr. Jones operates from behind bulletproof glass at an Austin industrial park, in a dimly lit hive of studios and cluttered, open-plan desks.
He invited a New York Times reporter there for an interview on two conditions: that the location of his headquarters not be specified and that he would record audio of the interview.
There are no identifying signs outside.
Inside, there are split-screen security camera monitors throughout, which Mr. Jones checks as he passes by.
There are guns in the building for protection, he said.
He added that armed snipers are positioned on the roof, then in a phone call the next day said that he had made that up.
He wouldn't say how many employees he has, but in 2017 court testimony he said he employed 75 people, plus 10 contractors.
Mr. Jones talked for nearly three hours, bouncing around the room, raising his voice, feigning menace, replaying themes and entire riffs from his show.
"I am here giving you the unfiltered truth of my soul," he said.
He insisted that his troubles are proof that a globalist, leftist cabal aims to silence him.
He claimed advance knowledge that technology companies, Chinese communists, Democrats and the mainstream media would "try to use me as a 2018, 2020 campaign issue — to hurt Trump, to misrepresent what I've said, to project it on Trump, and to go after the First Amendment and legitimize the censorship of all the Republican congresspeople."
It was classic Alex Jones: a nonstop mix of flimsy fact, grievance, paranoia, ideology, combativeness and solipsism.
Mr. Jones often exhorts his listeners to "investigate" the hoaxes and theories he advances, pleas that may have inspired criminal acts by some of his followers.
In 2000, Mr. Jones and his cameraman, Mike Hanson, infiltrated Bohemian Grove, an annual camping retreat for global business and political leaders near Monte Rio, Calif. The pair shot dim video of a pyrotechnic spectacle that Mr. Jones wrongly claimed was an "occult ritual."
Early in 2002, a heavily armed man entered the grounds and set a fire.
Citing Mr. Jones' reports, he said he was convinced that child abuse and human sacrifices were taking place at the retreat.
A similar scenario unfolded more than a decade later, when during the 2016 campaign Mr. Jones helped spread the "Pizzagate" hoax, that Hillary Clinton and Democratic operatives were running a child sex ring from a pizzeria in Washington, D.C.
An Infowars listener, Edgar Maddison Welch, entered the pizzeria in late 2016 armed with a military-style rifle to investigate and rescue children he believed were being held captive, firing the gun inside the restaurant as patrons fled.
He is serving a four-year jail term.
Mr. Jones for years spread the false claim that the Sandy Hook shooting was a fraud, and that the victims' relatives were actors in a hoax planned by government "gun grabbers."
In 2015, after Leonard Pozner, whose son Noah died at Sandy Hook, got one of Mr. Jones' Sandy Hook hoax broadcasts removed from YouTube, Mr. Jones showed viewers Mr. Pozner's personal information, and maps to addresses associated with his family, according to court documents.
Lucy Richards, an avowed Infowars listener, subsequently went to prison for issuing repeated death threats against Mr. Pozner.
The Pozner family lives in hiding, and is suing Mr. Jones for defamation.
On Father's Day 2017, Mr. Jones went on Infowars in a brief broadcast to offer the Sandy Hook parents "my sincere condolences" for the loss of their children in "the horrible tragedy" in Newtown, Conn.
He said he wanted to "open a dialogue" with the families because it was essential for the nation to come together rather than "letting the MSM misrepresent things," referring to the mainstream media.
In the Times interview, Mr. Jones suggested that blame for the pain of the Sandy Hook families rests not with him but with the media and inconsistencies in coverage of the shooting.
"I was covering a giant phenomenon of people not believing media anymore because they've been caught in governments' lying so much," he said.
Alex Jones grew up in a conservative, upper-middle-class family in the Dallas suburb of Rockwall, the son of a dentist.
There was nothing particularly unusual about him during those days, except a conspiratorial nature and, from high school on, as he put it in court testimony, a commitment to "seeking out ways to get on air."
Mr. Jones was inspired, he has said, by "None Dare Call It Conspiracy," a 1971 book by Gary Allen that advanced the conservative theory that domestic decision making is not guided by elected officials, but international bankers and politicians.
Mr. Allen also sold similarly-themed recordings by mail order.
While a community college student in Austin, Mr. Jones landed a show on Austin community access cable hawking outlandish conspiracy theories.
When Kelly Jones met him in Austin in the late 1990s, Mr. Jones was wearing a bumblebee costume in the Texas heat, doing promotional stunts for a local radio station.
He dropped out of community college, and with money from his father, produced "documentary" videos, starring himself, about 9/11 being an inside job, "police state" abuses and the "new world order" he claimed was being engineered by the Bilderberg Group, an annual gathering of prominent financiers, economists and political leaders.
He bought airtime on shortwave radio, and broadcast his theories out of an unused nursery in his house with "choo-choo" train wallpaper, Ms. Jones said in an interview.
To the extent that his early shows were informed by coherent political thought, he was a libertarian, suspicious of Republicans and Democrats alike; Ron Paul, the three-time presidential candidate and libertarian icon, was an occasional guest.
But with the election of President Barack Obama in 2008, Mr. Jones discovered that nasty partisanship was a moneymaker.
In court in 2014, he said, "We have had company meetings in the last two years preparing for the eventuality of a Republican takeover," which he considered a threat to his business, because when attacking Democrats in power, conservatives could "be more provocative, more interesting and so it gets more viewers."
Mr. Trump, who entered electoral politics spreading the false assertion that Mr. Obama might not have been born in the United States, was a welcome surprise for Mr. Jones. He found in Mr. Trump a kindred anti-intellectual with an outsider's perspective and a willingness to entertainconspiracy theories and disseminate fact-challenged assertions.
The two men were connected by Roger Stone, a longtime adviser to Mr. Trump who is a paid host on Infowars.
In December 2015 Mr. Stone arranged for Mr. Trump to do a 30-minute interview with Mr. Jones.
The themes promoted by Mr. Jones sometimes make their way through the media ecosystem and win the attention of Mr. Trump, like a bogus assertion about the slaughter of white farmers in South Africa that the president invoked last month.
In the wake of steps by the social media companies to ban Mr. Jones, the president has also repeatedly voiced concerns nearly identical to those expressed by Mr. Jones about efforts by technology companies to silence voices from the right.
On Infowars last month, Mr. Jones suggested that he is coordinating his message with Mr. Trump.
"We advise the president," Mr. Jones said. "We've got all the documents. We've got the proof. Other people are scared to tell him what's going on."
Two White House officials said they were not aware of any recent contacts between Mr. Jones and the president.
Infowars operates through a series of interlocking companies, none of which publicly reports its results.
But a rough picture of the operation's scale can be gleaned from the documents detailing its financial condition in 2014.
One entity — created to house the supplements business — generated sales of $15.6 million and net income of $5 million from October 2013 through September 2014, according to an unaudited profit and loss statement viewed by The Times.
During the same period, another entity, possibly recording overlapping revenues, listed net income of $2.9 million and sales of $14.3 million, with merchandise sales accounting for $10 million, advertising for nearly $2 million and $53,350.66 in donations, according to an unaudited company statement.
Since then, current and former business associates said, the Infowars empire has continued to thrive.
The heart of the business is sales of lightly regulated nutritional supplements that purport to improve health or virility or both.
"Supplements are popular," Mr. Jones said in the interview. "They're good. They're a fast-growing market. I use it to fund the operation.
Other revolutionaries rob banks and kidnap people, O.K.?
I don't do that."
By late 2012, Mr. Jones decided to create a supplement line of his own, a move that would allow him to reap more of the profits.
The next summer, he recruited his father, David R. Jones, to leave his dental practice and help manage the family business, negotiating a deal for Dr. Jones to be paid what he was making previously — $300,000 to $500,00 a year — plus an additional bonus of 20 percent of the profits from the entities he created.
When Dr. Jones came on board, the business was in disarray.
In court testimony, he said he found a series of "green notebooks stuck in a cabinet" outlining a number of entities that had been established over the years.
Dr. Jones set about evaluating the business, getting the corporate entities sorted out, and creating opportunities to expand the supplement business.
The company struck deals with a number of manufacturers, slapping its Infowars Life label on a range of products.
A 2014 agreement with one of its most prominent suppliers, Global Healing Center, shows that the manufacturer made at least eight products for the brand, including "Super Male Vitality" a private label of Global Health's Androtrex, purchased wholesale for $14.99 and advertised on the Infowars Store for $69.95.
Kelly Jones compared Mr. Jones's marketing to that of a televangelist, preaching to his faithful, selling cures and soliciting donations.
His customers buy in — and then they buy.
For every threat he raises, there is a solution for sale.
Matt Redhawk is the founder of My Patriot Supply.
The company sells water filtration systems, emergency survival food and other products on Infowars targeting consumers in the preparedness movement, "from someone who is preparing for a job loss or a weekend without power, up to the full blown Armageddon," Mr. Redhawk said in an interview.
"Controversy sells. You can't ignore the fact that there is a method there," he said.
"Preppers" are an important market segment for Infowars, and ads on its website bring better response than on other conservative media shows, said Chad Cooper, who owns Infidel Body Armor, based in San Tan Valley, Ariz.
He spent about $5,000 a month on Infowars advertising for his civilian body armor line until recently, when he suspended his advertising because Infowars started selling ads to too many of his competitors.
While he does not take in Mr. Jones's show — "he's a nutter," he says — "I've spent quite a bit of time on the phone with these Alex Jones people who order from me," and described them.
"They're nonbelievers in what the media tells them.
They think there's more to the story," he said.
"They think there's aliens, and the government knows about that and they're not telling them. They're all religious, and they're very concerned about the direction the government is going."
"He's really good at scaring people," Mr. Cooper said of Mr. Jones. "He gives them that sense of urgency — they need to hurry up and do something. Now."
Last February, two former employees came forward with allegations that they faced discrimination at Infowars.
In interviews, they depicted Mr. Jones as the leader of a racially charged workplace.
Robert A. Jacobson, 43, started working with Mr. Jones in 2004 as a video editor, and said that over the years he was taunted for being Jewish.
He said that the harassment escalated after August 2015 when Mr. Jones interviewed David Duke, the former Ku Klux Klan grand wizard.
Ashley L. Beckford, who was hired as a production assistant in June 2016, said that she was called racial slurs, paid less because of the color of her skin and forced to fend off unwanted sexual advances, including from Mr. Jones.
Ms. Beckford, 32, said that an employee once called her a "coon," that she was shown swastikas in the office, that Mr. Jones once grabbed her buttocks, and that staff members repeatedly used the term "fat black bitch" around her.
On his show, Mr. Jones denied the allegations and called both former employees liars.
Mr. Jones's image and credibility as a provocateur are closely linked to his credibility as a marketer of supplements and other products.
Consequently, sales of the fluoride-free toothpaste he promotes might decline if he recants his bogus claim that fluoridated water causes cancer and stunts the brains of children.
Demand for Infowars-branded gun components that can be purchased without a firearms permit might fall if he backs off his predictions of a looming civil war.
Mr. Jones had cited a desire to express contrition to the Sandy Hook parents as a reason for agreeing to be interviewed.
But many times during the interview, his efforts at apology morphed into new theories.
"The idea they're pushing is that you can't ever question anything," he said, "they" referring to anyone who criticizes his twisting of the truth.
"I don't think you can establish that anything is 100 percent fact."
By Elizabeth Williamson and Emily Steel 
 : Natalie Reneau, Eric Thayer, Alyssa Schukar, lana Panich-Linsman and Gabriella Demczuk for The New York Times, Ben Jackson/Getty
####
…..we used to get one shot at this….and then …white out………………………………..w