In the land of cutting-edge fintech, employees of giant government banks race against obsolescence.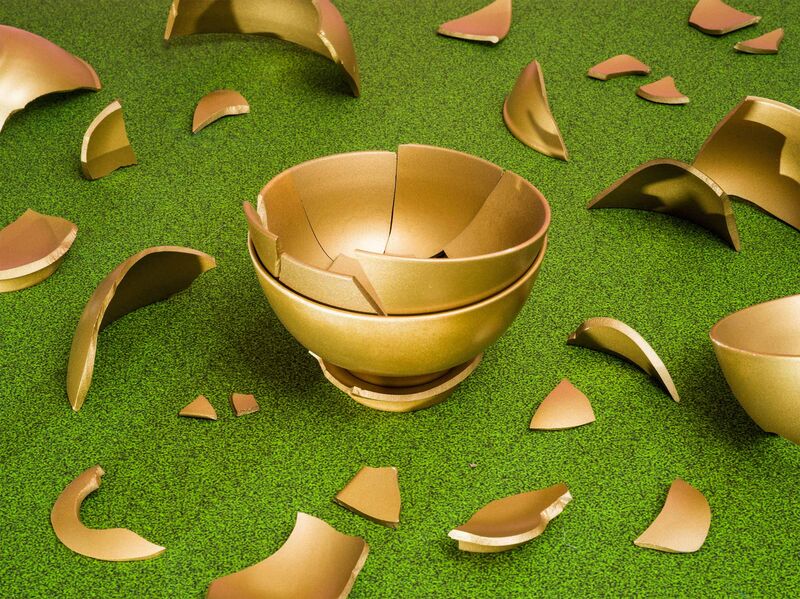 Around the world, when bankers ask themselves where the next big technological threat to their business model will come from, they imagine a future that looks a lot like China now.
The nation is home to the world's biggest mobile payments market, which handled $17 trillion in transactions last year.
Chinese consumers, particularly millennials, love the convenience of buying mutual fund shares and insurance policies with a swipe on their smartphone.
If they do wander into a bank, it might be one like the country's first fully automated branch, which opened this summer in Shanghai.
Customers gain entry with facial and voice recognition scans and are greeted by two teller-bots.
In addition to normal banking services, the "intelligent teller machines" (ITMs) at the China Construction Bank Corp. branch offer online shopping and utility-bill payment services.
There's even a virtual-reality showroom, where visitors don headsets to explore potential apartment rentals.
There's just one thing standing in the way of this seamlessly cybernetic experience.
Banking is dominated by lumbering state-owned institutions that employ more than 3 million tellers.
That's a lot of people with very good jobs.
China's fintech landscape is ruled not by the incumbent lenders, but by Ant Financial Services Group, an affiliate of Alibaba Group Holding Ltd., and Tencent Holdings Ltd., best known for WeChat, its messaging and social media network, and WeChat Pay.
Ant and Tencent, with their stranglehold over the mobile payments market, are siphoning deposits and fees from traditional banks by offering online money-market funds and other financial products.
Both run profitable banking units started in 2015 that have signed up tens of millions of customers without having any physical branches.
None of this has been lost on Chinese officialdom.
The government is starting to put limits on the financial services, such as credit scoring and some types of lending, that these newer players can offer.
Over the next decade, more than 500,000 tellers risk losing their jobs or may have to move into other roles, according to data compiled by Bank of Communications Co., the nation's fifth-largest lender.
The bank made that prediction in 2017—and it may already need to be revised upward.
"In hindsight, that estimate was too conservative," says Zhou Kunping, deputy general manager of research for BoCom.
"How to redeploy those employees is a big headache to banks."
Adapting is "not a choice, but a must for Chinese banks," says Abraham Fan, vice president at SPD Silicon Valley Bank Co., the first Chinese-U.S. joint-venture bank, based in Shanghai.
"Almost 90 percent of a branch's functions can be completed on an ITM or mobile phone.
Any bank that drags its feet will be left behind. But the legacy burden can't be shaken off overnight."
The fate of China's top four state-owned banks is a politically sensitive issue for President Xi Jinping's government, given that these megalenders employ 1.6 million people. Agricultural Bank of China Ltd. alone has about 500,000 on its payroll, more than the workforces of JPMorgan Chase & Co. and HSBC Holdings Plc combined.
In China, a bank job is considered a "golden bowl"—a source of decent pay, a better-than-average pension, and a housing allowance.
Not surprisingly, the turnover rate at the banks was only 10 percent in 2017, compared with 16 percent for all financial sector jobs, according to Beijing PXC Management Consulting Co., a human resources adviser.
Chinese bankers received an average 6.2 percent pay raise last year, higher than at foreign banks operating in China, though lower than at other domestic industries.
The trend lines don't look great for traditional banks.
More than 87 percent of banking transactions in China were completed online or on phones, vs. 45 percent in 2010.
Annual compensation of about 100,000 yuan ($14,630) for an experienced teller in a major city is on par with the purchase price of a high-end ITM, according to the official People's Daily.
And an ITM runs 24/7 and rarely makes a mistake.
Banks have already raised requirements for entry-level jobs to prepare for the shift, according to Wang Guanni, a Shenzhen-based director at PwC and a financial industry human resources expert.
A typical teller must have a college degree—preferably with a major in finance, economics, or marketing—be proficient in English, and pass written tests. "Tellers have the incentive to move into another function that requires a more sophisticated skill set and can lead to other job opportunities," Wang says.
Not all bank workers are getting squeezed. Even as they trim branch jobs, Chinese banks are struggling to retain valued midlevel employees, who are bolting for fintech startups or other financial institutions where they can earn 20 percent to 30 percent more pay, plus stock options. At the same time, the government has capped the pay of the most senior executives at state lenders.
Some Chinese banks are investing heavily in robots and artificial intelligence and even teaming up with fintech giants. Bank of China Ltd. is using Tencent's cloud computing technology to identify and track tens of thousands of suspicious transactions every month. Ping An Bank Co. has a facial recognition system with a database of 54 nuanced facial expressions that's supposed to help loan officers tell whether a would-be borrower is lying.
At China Construction Bank, clients still prefer branches for safely wiring large amounts of money, and bank tellers are in demand at smaller branches in rural China. Yi Huiman, chairman of Industrial and Commercial Bank of China Ltd., the nation's largest bank, said last year that even though 92 of every 100 transactions at the bank were completely digital, customers still pay about 700 million visits to its 16,000 branches each year.
China's Communist Party probably will never allow large-scale layoffs given its fixation on social stability, but the rise of Chinese fintech will keep the pressure on. Wang Chen, a teller turned wealth manager at a midsize bank in Shanghai, says most of his colleagues are worried and keen to move to other departments because of long working hours and the decline in bonuses in recent years. "While I don't see any imminent risk of layoffs, obviously it's not the best year to be in banking for most of us," he says.
Bloomberg News
####
……………………………………..hmmmmmm…….?……..w